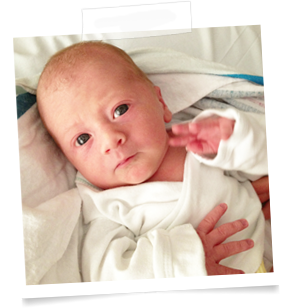 Judah Christopher has arrived!
…he says, "Hi"
Hadessa and I couldn't be more excited and can't wait to watch this little guy grow. Like his mother, he opted to be prompt and come a little early on June 22nd; a good 9 days before his due date.  Our little adventure was born at 12:50am weighing in at 7 pounds 5 ounces and measuring 19 ¾ inches.
We named him Judah, meaning "One who praises God" and Christopher, meaning "Christ Bearer" as a declaration of who we hope our little guy becomes.
Thank you all for your prayers and support as we begin our adventure as a family of three.
The Latest


We'll try and keep you updated on what's going on in our lives, nursery make-over and the like.
Gift Registry

We tried to lay out some ideas of things we feel we need or want to help us with the transition of baby.
Fun Facts

The newest developments with baby overtime as growth continues.