Our Engagement Story
Craig,
Getting engaged is a big deal. It only happens once and goes down in history as a story to be told over and over again! I especially wanted Dessa to be proud of our story. This is once in a lifetime and it was my opportunity to sweep her off of her feet.
We were at the point in our relationship where we had already talked about when and where we might have the wedding. We had discussed our mutual preference for a short engagement. We had casually looked at rings together and she had given me a few ideas of what she liked. We needed at least a six-month engagement before the wedding so the timing of the whole thing was pretty predictable.
I had set a date in my head of the weekend just before we spent thanksgiving at her house. Proposing before we went home for the holiday meant that we could celebrate with her family and tell the story first hand. I had several proposal ideas cooking but the weather was getting colder and many of my elaborate out door plans were quickly becoming less feasible. I still had a few ideas up my sleeve but first I needed a ring!
Getting the ring was quite an elaborate task that took a few weeks of research and prep time. I was purchasing the most important piece of fine jewelry of my life! And for that matter of her life too. After window-shopping with her a few months before I felt like we were on the same page and I had a pretty good idea of what to look for. I started by simply looking at rings online and quickly discovered that even though she had already given me some direction I still had a lot to figure out. "Simple, yet elegant and unique", were the criteria that she and I had discussed. I checked out a number of jewelry places from retail chains to the independent jewelers. Some were helpful. Others were not. But in the end I found the perfect ring at an independent jeweler who took me under his wing and showed me the ropes. It was simple yet elegant and I had the diamond mounted on a unique band that I had specially ordered. Three weeks of ring shopping later, I took her engagement ring home. I was walking on air.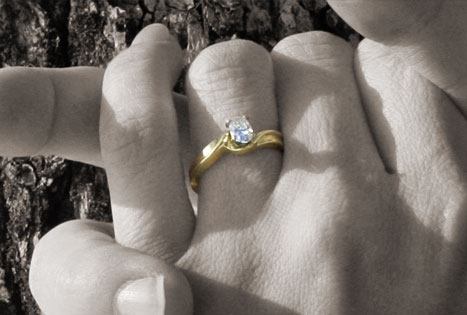 The Tenderloin Room was where we had our first date as a couple and I wanted to re-live our dating relationship by taking her back there. I got in touch with the manager and explained my plan to propose following a wonderful dinner at his restaurant. He was extremely helpful and was gracious enough to let me take home one of their menus. I purchased the same card stock paper they used and had the manager email me the restaurant's original logo image. I attempted to recreate their menu using the same fonts and printing on matching paper. I then replaced the menu items for my own "top ten reasons I love you" on the back. I replaced the pictures of gourmet dishes with photos of Dessa and I and added little captions that brought back fun memories. Once it was in their laminated leather folder my menu looked just like theirs at first glance. Perfect.
As my plans developed for our engagement I made it a point to drop little hints that gave her the impression that a proposal wasn't coming anytime soon. "So what is your ring size again?" I casually asked her the day before I was going to propose.
The forecast was a little too cold the day of so I ditched my plans for an outdoor proposal and decided to take on the task of turning my garage into the prime location. I hung a white canopy from the ceiling in the shape of an open "v" from the front of garage to the back providing a white backdrop. I used concert floodlights to light up the entire canopy with blue and purple lighting. White sheets were spread out on the floor with a black runway leading to the back center of the canopy. In this spot was a small black cloth covered table with a single rose. White floodlights shone underneath the table beaming up to silhouette the rose and illuminate the center of the entire set up. As a final touch I spread out white rose pedals to adorn the path to the center rose and ring. A video camera was set up and music cued to "our song". I set out wine glasses to celebrate afterwards and made sure everything was perfect.
Dessa,
We had planned to go out to the Olive Garden for dinner because we had never been there together. I got up that morning and was waiting for Craig to call and tell me he was up and coming over to spend the day with me. However, the call I got was a change in plans. Instead of a date to the Olive Garden Craig suggested we dress up really nice and go to the Tenderloin Room. Now, the Tenderloin room is this 5 star restaurant that Craig had taken me to our first Valentine's Day. I began to get suspicious. Craig arrived and we drove into St. Louis all dressed up and ready for a nice evening together.
As we walk into the restaurant, everyone just kind of looks at us smiling and being extremely friendly. "A little curious", I thought to my self. We sit down and the waiter brings us our menus. I glance down at mine which at first looks normal and then am somewhat horrified to see pictures of us instead of food. I turn it over and the top says "10 Reasons why I love you Hadessa!" I stammer out "How did…did you…did you do this?" Craig laughs and says yes he made it. I read over beaming ear to ear. Even the waiter couldn't help but comment on how cool that was. It was a great moment and truly a surprise.
We had a wonderful dinner together and enjoyed a jazz singer playing live music during our meal. We even got a complementary dessert on the house! On our way out, the singer stopped us and asked, "You're leaving already? I was going to dedicate a song to you". At this point, I knew for sure the proposal was going to happen tonight. The overly friendly waiters, the menu, the free desert and now even the musicians knew something I didn't. I began to get really excited.
Craig rushed us out the door as if there might still be some uncertainty in my mind of what tonight was all about and tells me he has something for me in the car. Now, my first thought is that was that he is going to pull the ring out and propose there. As we get in the car he reaches behind the seat… I keep thinking, "What if he even proposes here? He can't propose here!" He pulls out this manila envelope and hands it to me. Craig had printed out his journals from before we were dating to our first weeks as a new couple with his thoughts and prayers on everything. I begin reading it out loud and we reminisced our way home about the memories of our relationship.
Craig,
Reading over my thoughts and prayers was a great way to re-live those first new and exciting days of dating. It was also to keep her from asking any questions on the way home. I had formed a plan with my roommates at home that when I called we would be just 5 minutes or so away from home. They were instructed to turn on the floodlights, cue the music, and then leave so we had the house to ourselves. As we got close to home I made the phone call rather obviously and gave Dessa a suspicious look to build the anticipation. If it wasn't clear before it was now.
We pulled up to the house and walked towards the front door. I was one step behind her and at the right moment hit the garage door opener to reveal my elaborately decorated set up. I had a remote for the music and as we approached the garage her face turned to wonder.
Dessa,
It was amazing! Craig had created a white canopy surrounding the garage with white sheets. Floodlights were coming in from the outside of the sheets. The floor was covered with white sheets with white rose petals all over it! It was really pretty. We danced for a minute and then Craig led me up to the white rose where I caught a glimpse of the ring inside. He pulled the ring out of the rose and held it for me to see. We marveled over it for a minute and then he turned me around, got down on one knee and began…
And then I said yes! Sorry, I'll leave the good stuff to me. It was really an amazing experience and Craig made it absolutely perfect.