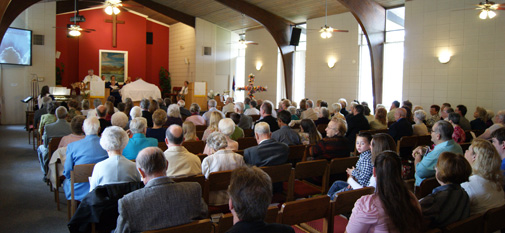 Our worship is somewhat casual and also traditional.  We try and use inclusive language, knowing that God is not to be kept in a box.   Worship invites for casual dress, but also demands a reverence and a sacred space where we meet God to pray, sing, and be blessed by God's presence.
Adult
Our adult worship is at 10:25am
We celebrate communion every Sunday and all people are invited to partake.
Participants in worship are given space to reflect and pray, sing and celebrate, and participate with one another in being in the Holy.
While we do traditional songs and hymns, words to those songs are available on the powerpoint as well.
Communion is central to our Worship at Eastgate.  We partake every Sunday, and Christians oof any denomination are welcome.
Each worship ends with an opportunity for those who would like to join the Eastgate community.
Children's
While our children are ALWAYS welcome in worship, we do know that their style of worship might be on a different level.  We think it's important our children learn the tools they need to worship.  We provide during the adult worship, after the children's message, a special children's worship in The Little Pond.  Children engage in the story, participate in singing, and celebrate a "feast" together.  It models the adult worship, but in a way that children can truly understand and be inspired.