Photoside Cafe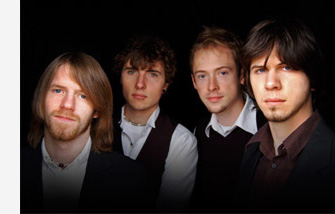 The burst of fresh air currently blowing through the Midwest music scene is Photoside Cafe, a four piece Aggressive, Acoustic, Progressive, Art Rock band from Greenville, IL.
The foursome met in the fall of 2005 at Greenville College, a school noted for its Contemporary Christian Music program. From the beginning, hard work and creativity was what swept up their fans and music professors alike in a melodic undertow. Photoside's intricate details in each song leave audiences in awe and have earned the respect of fellow musicians.
Photoside Cafe has already created a solid fan base throughout the Midwest, playing on multiple stages in such notable music festivals as Agape Festival and Cornerstone.
The chemistry within the group is outstanding, and it shines onstage. Each member brings elite individual talent into the mix, making the final product the perfect combination of talent and creativity. With their blazing songs and lyrics, Photoside Cafe blends all the right elements to create an ambiance that is nothing short of remarkable.