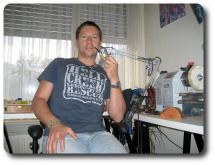 A Belgian pipe maker aiming for the big league ?? LOL !! Come on, be serious. I clearly remember my reaction when I learned about the existence of my fellow countryman. Hence, it was with a healthy dose of scepticism that early 2009 I invited Dirk Claessen to my office. He proved to be rather shy and lacking confidence. Then again, how the heck could a guy with a body of work of less than a dozen pipes be self-assured ? Nervously, he handed a rusticated lovat to me for inspection. It blew my socks off. The shape had excellent proportions and symmetry, it was light as a feather, extremely well constructed and, above all, it sported an absolutely superb flat, comfortable, yet wide open bit. Holy Moly !
He then told me that he had been getting guidance from Peter Heding, that he had studied for a week in the workshop of Love Geiger and that his favourite pipe maker was Brad Pohlmann. Frankly, when it comes to references, a neophyte carver could do worse.
In December 2009 I asked Dirk to bring some pipes to a meeting with Will Purdy in Brussels. Will examined them closely. With a big smile. He immediately recognized the chops and the potential of this promising but inexperienced amateur carver. Six months later, Dirk decided to burn his bridges and to go all the way : he migrated to Spain and established himself as a full-time pipe maker.
I have a confession to make : I don't like each and every shape Dirk comes up with. His tendency towards chubbiness and his personal take on proportions aren't always my cup of tea. However, his growing body of work testifies to the fact that he's a versatile artisan whose contemporary interpretations of classic shapes like billiards and bulldogs, Danish-inspired eggs and brandies, and highly personal creations like the Wizard's Hat or the Cheeky Volcano can appeal to a broad variety of customers.
Today I own four Claessen pipes and a fifth one has been commissioned. And I want more. That's why I have another confession to make : I'm not particularly keen on writing this page. Because I know what will happen. If I tell the world just how exceedingly well these pipes are executed, fitted and finished, how effortlessly they draw and how irreproachably they smoke, everyone will want one. And consequently, Claessen's prices will end up rising. So, please, treat the info I'm on the verge of whispering in your ear as confidential : when it comes to bang for the buck, Dirk is really hard to beat. Let this be our little secret.
By Erwin Van Hove
How To Buy?
You'll see I don't have links to PayPal to buy a pipe or accessories on my site, I don't like the idea of hitting a button and buying a pipe. Call me old fashioned but I want to know who's buying a pipe from me. Here is How to Buy »