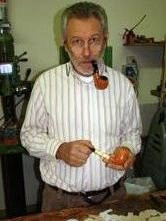 Claudio's background as a pipe maker is not a common one. He has always been a farmer, and when you see his rough hands, you will not believe that those hands can produce such elegant, delicate works of art. He's married to Daniela who plays an important role in the production of the Cavicchi pipes. She polishes mouthpieces, uses fine sandpaper to give the pipe the final smooth feel, and above all, does all the labor-intensive and physically demanding rustication.
Claudio starts with plateau X briar that he personally selects from the regions of Calabria and Liguria. He then slowly cures them with his secret process for a period of three years. Each pipe has a perfectly located draft hole and acrylic mouthpiece.
According to the Guinness Book of Records, Claudio holds the record for the longest pipe smoke: More than 3 hours and 19 minutes.
How To Buy?
You'll see I don't have links to PayPal to buy a pipe or accessories on my site, I don't like the idea of hitting a button and buying a pipe. Call me old fashioned but I want to know who's buying a pipe from me. Here is How to Buy »