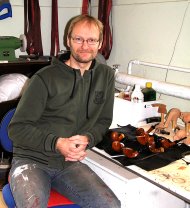 Kent is a sculptor, and it shows in his pipes.
Many of his pipes consists of complex, compound curves in three dimensions, but all done in perfect harmony and with the aesthetic sensibilities of a true artist.
The finish is exquisite down to the smallest detail and nothing but the best leaves his workshop.
By Lars Kiel
How To Buy?
You'll see I don't have links to PayPal to buy a pipe or accessories on my site, I don't like the idea of hitting a button and buying a pipe. Call me old fashioned but I want to know who's buying a pipe from me. Here is How to Buy »