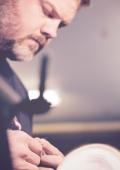 In 2005, Tyler Lane Beard had collectors clamoring for his pipes; briars of extraordinary quality and vision that commanded impressive money, and ran the highly influential Pipe Maker's Forum. He was also (and still is) the Pastor of the Midlands Bible Church, as well as the head of a family of seven. When Tyler realized that his involvement in the former began to compromise his ability to give his utmost to the latter, he had a decision to make. Well, actually 'decision' wouldn't be quite right, for that implies having to make a determination of something in doubt. Between a career as a pipe maker, and a career of being a father, there was no doubt, and Pastor Beard announced that the forum would be run by Kurt Huhn and he was beginning a hiatus from pipe making.
After seven long years, with his children having grown from toddlers/babies to school-age, the Tyler Lane pipe is back on a limited basis, and we at Quality Briar feel quite honored that he has chosen us to be his representative.
Tyler has a refreshing philosophy on pipe making, as well as an admirable frankness when describing his method of thinking. In essence, while outstanding drilling and engineering is critical in the creation of a pipe (and Tyler is quite fastidious in these matters), that goal is easy to achieve, and one should expect to receive the same from any competent pipe maker. To quote the Artisan; "My primary pursuit in pipe making is beauty… My point is that well-drilled holes are not what stir the soul… what stirs the soul is beauty. My role as a pipe maker is to pursue beauty. It is a good task."
When you invest in a Tyler Lane Beard pipe, you are acquiring a visionary piece of smokeable art, wrought with an uncanny eye, unerring hands, and boasting immaculate internal details. Tyler? We're SO glad that you're back.
How To Buy?
You'll see I don't have links to PayPal to buy a pipe or accessories on my site, I don't like the idea of hitting a button and buying a pipe. Call me old fashioned but I want to know who's buying a pipe from me. Here is How to Buy »