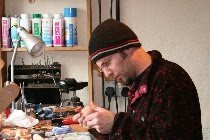 Larrysson Pipes by Paul Hubartt
The Larrysson name is Scandinavian, originating from Iceland. That is where I was born. Larrysson is my middle name, based on my father's first name and my relationship to him. I'm Larry's son, or Larrysson. My childhood years, however, were in mid-west America, among the rows of corn in Indiana. In August of 2002 I married a Cornish girl and immigrated to Cornwall, England, where I decided to pursue my working life as a pipe maker.
I have always loved pipes and making them was the best way I knew to immerse myself in the world of pipes. Making pipes is my career and my pastime, so it is quite difficult to get me to leave the workshop. I want my pipes to look great and smoke great, so I use well cured briar from Italy and German ebonite rod, but I'm known to use acrylics for a splash of color. I'm constantly striving to perfect my blasting technique and design aesthetic. I am very particular about fit and finish and every pipe having a good open draw yet thin bite. I mostly make classic shapes in my own style, and I like to make sculpted pipes when I'm feeling particularly creative.
How To Buy?
You'll see I don't have links to PayPal to buy a pipe or accessories on my site, I don't like the idea of hitting a button and buying a pipe. Call me old fashioned but I want to know who's buying a pipe from me. Here is How to Buy »