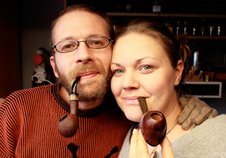 In the coastal region of Swedish Scania the couple Love and Sara live and Craft Geiger pipes. Each pipe that leaves their workshop is a result of a collaboration between the couple creating a unique fusion rarely seen in the pipe world of today.
I bought my first pipe back in 1996 inspired by my grandfather Rod Geiger who was a pipe smoker and by my ever curious nature and craft heritage soon thereafter I could not resist trying to make some for myself Love says smiling, since then the briar and I have developed an intimate relationship...
Their pipes feature both styles well recognized in the Scandinavian school of handmade pipes as well as their very own shapes of which they are of course most proud of. Using only top quality Briar from Corsica Italy and Algeria, Highest quality German ebonite and Cumberland for their handcut stems and inlays made from natural precious materials such as horn, mammoth, and whale tooth.
Three words we like to incorporate in our work Sara says: Grace, Personality and humor, a pipe should both be beautiful to look at, have a good hand feel and most importantly smoke like a dream.
How To Buy?
You'll see I don't have links to PayPal to buy a pipe or accessories on my site, I don't like the idea of hitting a button and buying a pipe. Call me old fashioned but I want to know who's buying a pipe from me. Here is How to Buy »